Landscape Architecture    Planning   Urban Design


Flatiron Park

The City of Norfolk is working with Land Studio pc to develop a master plan for Flatiron Park.  The intent of the master plan is to provide an outdoor public space that responds to the site's constraints and meets the City's and citizen's future desires for the site.      

For additional information contact:

E. Wayne Rountree, P.E.


Department of Public Works

757-664-4612
Bill Spivey, RLA


Land Studio pc

bspivey@landstudiopc.com

757-858-8585
Project Schedule

1st Community Meeting    -

-

-

-

  August 26, 2010
2nd Community Meeting   -

-

-

-         October 20, 2010
Final Master Plan Complete

-

-        -       November 30, 2010
Construction Documentation for Phase 1

-        December - January 2011
Construction of Phase 1

-

-

-

-      Spring 2011
1st Community Meeting Documents

These preliminary documents are posted for general information only.    








2nd Community Meeting Documents

The following concepts will be presented at the 2nd public meeting.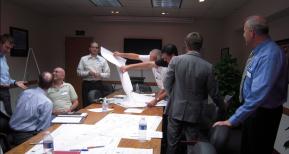 Group Discussion at 1st Public Meeting